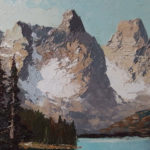 This painting of the Austrian Alps painted by Arnold-Grabone will be among a number of original art works listed for auction on November 25th with Midnight Sun Auctions.  What was interesting about this artist was the celebrity students he had the opportunity to tutor.
In 1951 U.S. General Dwight D. Eisenhower was stationed in Garmisch as the commander of occupied Europe. Sir Winston Churchill encouraged Eisenhower to take up painting as a hobby. Eisenhower followed Churchill's advice and began to take lessons from Arnold-Graboné. At that time Arnold-Graboné had his studio only a few miles from Eisenhower's headquarters. For a period of time Eisenhower flew twice weekly from Paris to Fürstenfeldbruck, and then by automobile to Tutzing where he took his art lessons from the professor. They formed a friendship and one of Arnold-Graboné's paintings hung in the White House. Later the former president hung one of the paintings, "Zugspitze" in his home in Gettysburg. [1][2].
Arnold-Graboné's circle of American friends acquired at NATO headquarters also included General Nordstrom and Robert L. Scott (author of "God is my copilot"). The artist marketed his works to the junior officers stationed at NATO headquarters and he often invited them to exhibitions his work. As a consequence, many young American officers purchased paintings and brought them back to the United States.
Through Eisenhower, Arnold-Graboné eventually became acquainted with Sir Winston Churchill. Churchill was interested in the artist's spatula technique and asked him for some tutelage. The two of them spent several weeks one summer in the early 1950s painting together on the Isle of Man.
Although he maintained his studio in Tutzing the artist exhibited throughout the world. In the 1950s and 1960s Arnold-Graboné had exhibitions in the United States, including New York City, Chicago, Washington DC and Sarasota, Florida.[3] Former President Lyndon B. Johnson owned in his private collection an original Graboné titled "Arber".
If this was a painting by churchill or Eisenhower it would bring it ten times or more the value of Grabone, celebrity status has a lot more value than artistic merit, although Churchill was not too bad of an artist some would say.  This is one of the paintings sold at auction. Go to www.midnightsunauction.com