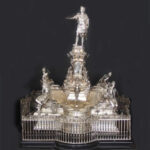 The entire miniature replica of the Royal Augustus fountain is made of  at least .800 Standard silver weighing a total of 30 lbs. The City of Augsburg, Germany commissioned this piece, purportedly,  as a wedding gift for the 19th Century 'Mad' King Ludwig II, but, alas, the wedding never took place.  This replica found its way from Augsburg, Germany to America. LIVE AUCTION HAS BEEN POSTPONED UNTIL SUMMER DUE TO COVID.
The statue on the top s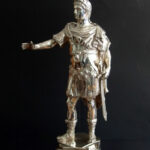 hows Emperor Augustus Caesar addressing his army. The Emperor is surrounded by female & male Classical figures   
NOTE: The actual fountain (not the replica) was installed in Rathausplatz, Augsburg, Bavaria (Germany) in 1594 and took 6 years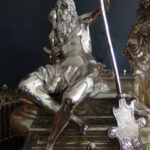 to complete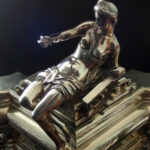 . 
'Mad' King Ludwig II, known for his eccentric behavior and lavish spending, was eventually dethroned, with psychiatric evidence that the King was unfit to rule. Mysteriously, Ludwig II & his appointed psychiatrist died with inconclusive evidence in the lake close by the Royal residence 3 days after Ludwig II was deposed
PROVENANCE: Charles Graef of New York purchased the fountain replica near Augsburg for reportedly $4000 (equates to $ 123,000 today) between 1895-1900 for his daughter, Mrs. Harry Whitney Treat, who had accompanied him to Germany.She in turn brought the piece to Seattle, Washington, USA where she was residing at the time. Mrs. Treat was the grandmother of Mrs. Schweitzer who ultimately inherited the piece.
Contact Midnight Sun Auctions for more info at info@midnightsunauction.com.  Go to www.midnightsunauction.com